Bronisław Krzysztof: Horse is a symbol of our unlucky romanticism.
Bronisław Krzysztof (1956) is a world-famous Polish sculptor. His main interests are in sculpture, medals, also graphics. And he is designing luxury objects for everyday use (bottles for perfume by Sisley that you probably have seen, or a beautiful coffee table). We interviewed him about all this and more.
What made you decide you wanted to be an artist, and when was that?
My family has always been artistically talented, especially when it comes to music. It was a string of events that made me become an artist straightaway.
Was sculpture your first choice of medium? Did you try other avenues too?
Everything starts with sketching, but when you're learning you experience different forms of artistic expression and sculpture has always been present in my lifee.
What was studying like in the seventies?
Studying is very simple. Either you want to learn or not. It wasn't easy in the '70s, especially to achieve an artistic success. It was completely based on political connections, where you lived and who you knew. I was never in the main stream or had the right political connections. Living in Zakopane after the Academy was not a place to build a career.
Which of your works are the most important for you, and do you come back to certain themes after some time?
I do go back to certain themes and especially certain artistic challenges, but only when I have a new solution to offer.
I saw quite a lot of horse-inspired works from you, what is your relationship to horses, and it it also because of the great tradition of sculptures of people on/with horses?
I did create a series called 'Man and an animal'. Horse comes back in my works, as it is symbol of our unlucky romanticism and our behaviours.
What makes great art? 
Art can be great as it engages our emotions and opens up limitless field of imagination. For sure real great art has to be original and unique and not repetitive in thinking and making.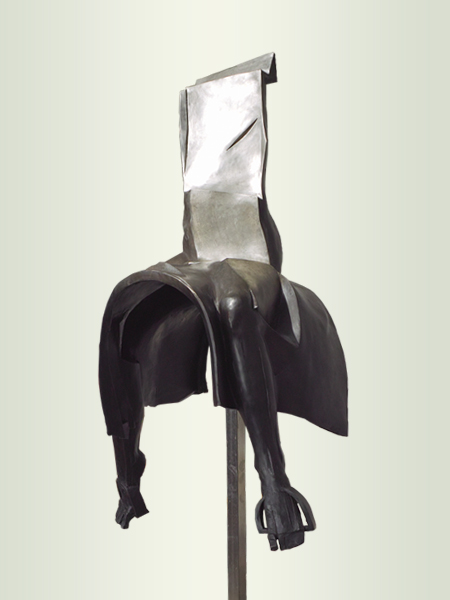 How did the collaboration with Sisley happen, and how did it become repetitive?
My sculptures were shown during an exhibition in London. Through them and their impact I was invited to work on the first flacon of Eau du Soir. It was hugely successful on every level. The decision made by Hubert and Isabelle d'Ornano was forward looking and I proved to be good as a designer.
Do you maybe get reactions that it is not "artistic" enough to make flacons for perfume, and what do you say to people who propose that?
Obviously, I heard comments like these, but they mostly came from my colleagues and were only aimed to diminish my success. On the other hand, it was positive, as my designs were written about in PhD theses in Paris or they were used as examples of successful design in lectures in School of Design in New York. In this instance, I didn't care much about these comments, as I was happy to take part in the projects and they gave me a lot of satisfaction.
You also make medals, what is it that you like about it?
It's possible to include the whole world in such a small object and then take it with you everywhere.
What is it like for an artist living in Poland these days?
It's not easy as such, but I've lived and worked for a long time and put a lot of effort into my work. It helps me realize my artistic plans. Our society is stabilizing and there's plenty of good things ahead.
You currently have an exhibition in Warsaw, what does it consist of?
I showed 11 sculptures plus various sketches and medals. The reactions from the artistic community, especially my colleagues and friends has been positive and this is what recompenses my time and effort.
And your plans for the next years?
I'm currently working on a monument for the City of Edinburgh. I am also making a new objet d'art for Sisley for their new space in Warsaw. I am also preparing for my next exhibition in Warsaw. This is my usual reality.
Anything else you would like to add?
I did take part in quite a few shows with Czech sculptors. They were mostly consisting of medals and I met a few of your artists. You have some great sculptors and they have great ideas. I do hope they're doing well.
Comments
comments