John Lydon: New Book & a Spoken Word Tour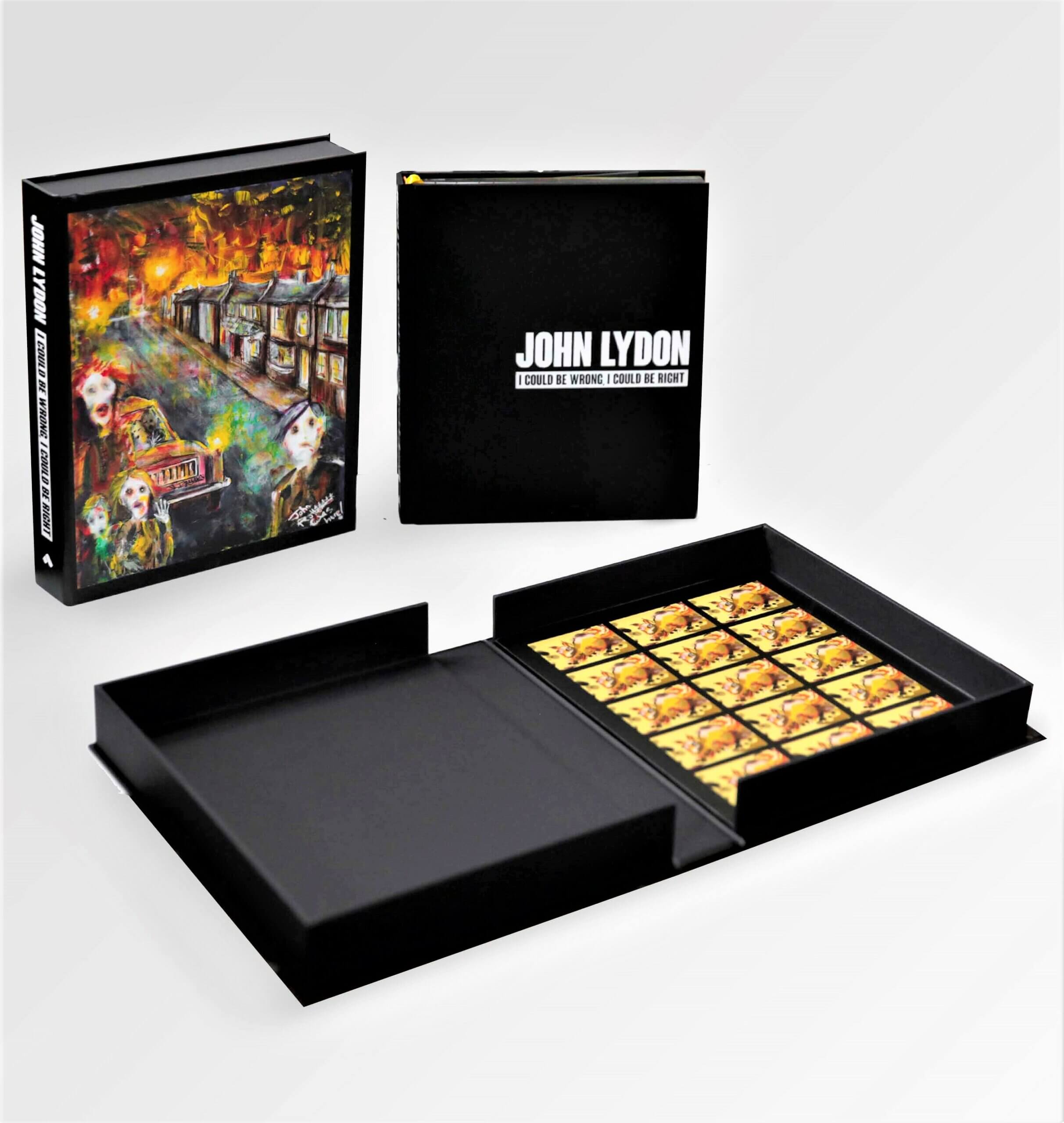 John Lydon: New book, 'I Could Be Wrong, I Could Be Right,' Out Next Month + Extensive UK Spoken Word Tour Rescheduled For Autumn 2021
He's a legend and an icon. 
John Lydon changed the face of music and sparked a cultural revolution. The frontman and lyricist of the Sex Pistols and Public Image Ltd (PiL) caused a political earthquake and transformed music for good. His new book is the brilliant, funny and insightful 'I Could Be Wrong, I Could Be Right'.
Beautifully designed and limited to just 10,000 numbered copies, each book includes an original signature from John.
In it, Lydon talks about the way he sees life, along with anecdotes from his unique and extraordinary career. Expect a pyrotechnic, one-off read from a true original who has always been one step ahead.
The book is available NOW as a pre-order via www.johnlydon.com , with worldwide publication on October 15th 2020.
'I Could Be Wrong, I Could Be Right' covers a range of topics, including the way John sees the world, his response to current affairs, his battles with technology and much more. It features exclusive artwork, painted by John. Those who pre-order have the chance to win the first book off the press, a free book or tickets to John Lydon's spoken word tour, now rescheduled to Autumn 2021.
On October 14th, one person who pre-orders the book will be picked at random. They will receive a refund of their book price and will be sent the first book off the press. The book is numbered 0001 and is a unique collectors' item. That winner will also receive 2x VIP tickets (including meet'n'greet) to a UK tour venue of their choice (providing that venue has not already sold-out).
Ten runners-up will also receive prizes, if they pre-order NOW. They will receive two regular tickets to any show (again, providing that particular show has not already sold-out).
NB If any of those ten runners-up already have tickets to the show and do not wish to attend another one, the value of their book will be refunded.
Books are only available via a direct link from the artist's website www.johnlydon.com.
RRP: £45, limited edition, hand-numbered, individually signed by John Lydon
—————————————————————————————————————————————————————————————————————————————————————————————————————————————————————————————————————————————-
Tickets are selling fast for John's extensive first ever UK spoken word tour, also titled 'I Could Be Wrong, I Could Be Right' – as previously announced, all dates have now been rescheduled to autumn 2021 and are as follows;
2021
7 September              Hastings White Rock Theatre
8 September              Crawley – The Hawth
9 September              Dorking Halls
10 September            Worthing Pavilion Theatre
11 September            Camberley Theatre
12 September            Kingston-Upon-Thames Rose Theatre
14 September            Epsom Playhouse
15 September            St. Albans Arena
16 September            Bedford Corn Exchange
17 September            Ipswich Corn Exchange
18 September            Bury St. Edmunds – The Apex
19 September            Clacton-On-Sea West Cliff Theatre
21 September            Port Sunlight Gladstone Theatre
22 September            Sale Waterside
23 September            Lincoln New Theatre Royal
24 September            Bradford St. Georges Hall
25 September            Hull City Hall
26 September            Leeds City Varieties
28 September            Bristol St. George's
29 September            Wimborne Tivoli
30 September            Yeovil Westlands Main Hall
1 October                   Bournemouth Pavilion
3 October                   Basingstoke Anvil
4 October                   East Grinstead – Chequer Mead
6 October                   Warrington Parr Hall
7 October                   Lytham St. Annes Lowther Pavilion
8 October                   Burnley Mechanics
9 October                   Wrexham William Aston Hall
10 October                 Crewe Lyceum
11 October                 Stafford Gatehouse
13 October                 Whitley Bay Playhouse
14 October                 Huddersfield Lawrence Batley Theatre
15 October                 Northallerton Forum
16 October                 Scarborough Spa Theatre
17 October                 Durham Gala Theatre
18 October                 Lancaster Grand Theatre
21 October                 Glenrothes Rothes Hall
22 October                 Falkirk FTH Theatre
23 October                 Kilmarnock Grand Hall
24 October                 Greenock Beacon Arts Centre
25 October                 Glasgow Pavilion Theatre
26 October                 Yarm Princess Alexandra Auditorium
28 October                 Warwick Arts Centre
29 October                 Leicester De Montfort Hall
30 October                 Chesterfield Winding Wheel
31 October                 Shrewsbury Theatre Severn
1 November               Birmingham Town Hall
3 November               Dudley Town Hall
4 November               Tewkesbury Roses Theatre
5 November               Loughborough Town Hall
6 November               Carmarthen – The Lyric
7 November               Cheltenham Pittville Pump Room
9 November               Porthcawl Grand Pavilion
10 November             Exeter Corn Exchange
11 November             Newport Riverfront
12 November             Bridgwater McMillan Theatre
13 November             London Union Chapel
Comments
comments