Adrian Harte wrote a book about Faith No More. We asked what it's like.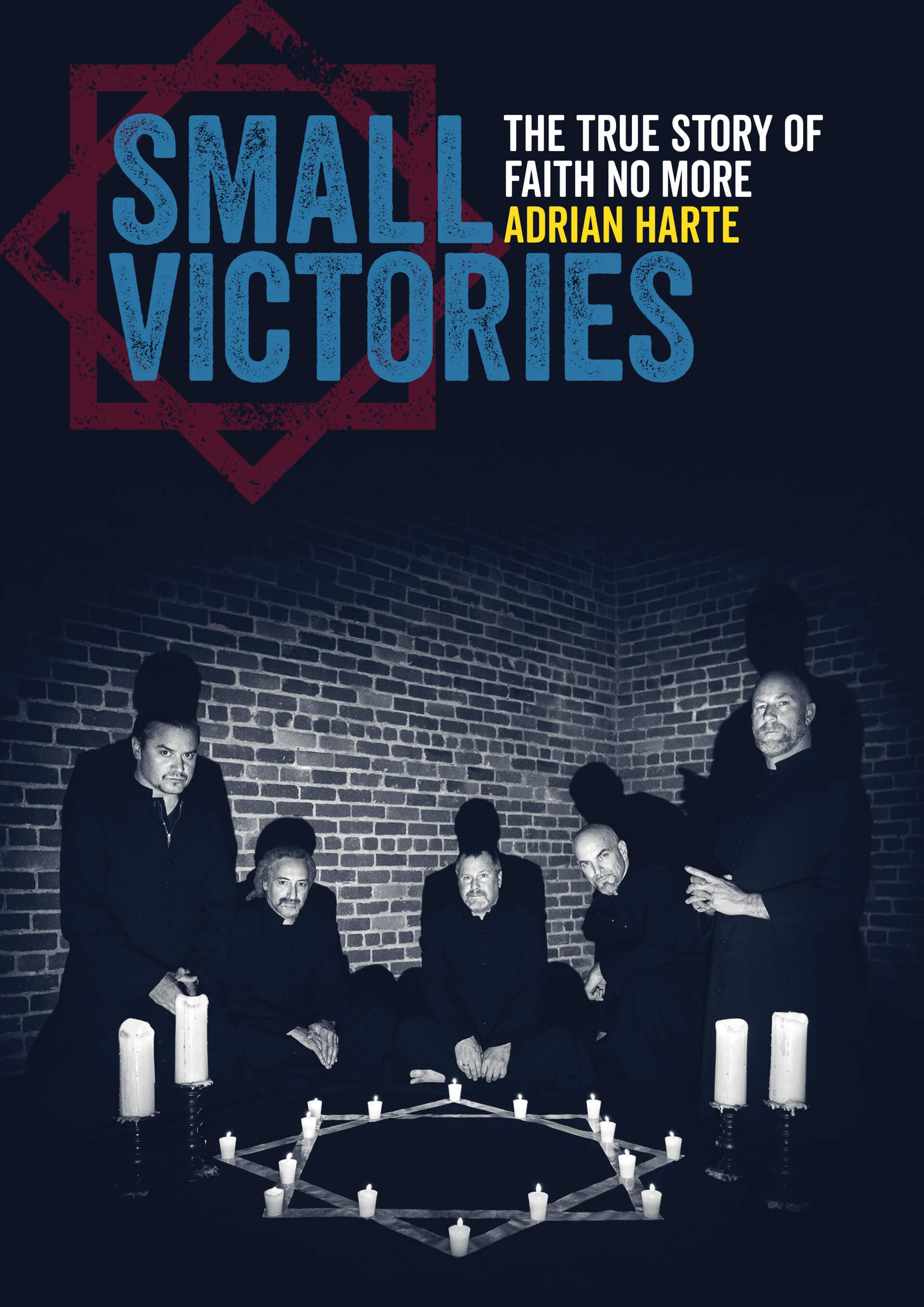 Small Victories: The Real Story of Faith No More a biography a band we admire a lot. We talked with Adrian Harte about what it was like writing it.
Who are you and what do you do for a living?
Adrian Harte: I'm an Irish guy who has lived in Switzerland for almost 20 years. I'm a former journalist who now works in communications. After spells with the BBC and The Guardian, I've worked for UEFA—the European football governing body—for a long time.
I've also run a Faith No More fan site for almost 10 years.
What made you a fan of FNM? When was it?
I'm honestly not sure what made me a fan, apart from really liking the music. It was The Real Thing era, 1990 or so, and I was getting into rock and metal aged around 15 or so, and Epic and From Out Of Nowhere and the whole album got me hooked. They used to play From Out Of Nowhere in the local night club. I first saw FNM supporting Guns N' Roses at Slane Castle in 1992, and again in a standalone show Dublin later that year.
When and how did you decide to write a book on them?
I had been running my FNM site for several years and had got to know the band members well. The success of Sol Invictus had shown that the band were arguably more popular than at their early 1990s peak. The blog was also very popular, but I felt I had taken it as far as I could at the time. So I was looking for a new challenge; I was looking to write again; I knew there were many untold stories to tell; and the time was right. I initially looked at telling the story of Angel Dust, but soon realised that there was much more to say. And that the band deserved a proper updated biography, and that the fans deserved a proper updated biography with heavy band input.
The hardest part was finding a publisher. Many publishers liked the proposal I put together, but a lot came back and said they weren't sure there was a market for such a book. The publishing industry is in a precarious place, so most publishers are incredibly risk-averse. For music books, if it's not Bowie or The Beatles, or for metal, Metallica or Maiden, most won't take the risk. But once I knew Jawbone, who make wonderful music books, were interested, I jumped at their offer.
I understand you did hundreds of interviews – with band, and also other people?
I interviewed 43 people by email, phone, and in person over just over a year, so there were over 100 separate interviews. I spoke to almost all past and present band members—and managers, record company representatives, the people who signed them, school friends, promoters, video directors, journalists…
I even tracked down and spoke to the mayor's son in Chile who recommended to his father that FNM play at a local festival in 1991, and also the Brazilian airport announcer whose voice was sampled on Angel Dust song, Crack Hitler.
Are there many photos, how did you get pictures for the book?
There are around 60 photos, most of them previously unpublished. I got a few hundred from the band themselves, and many more from photographers who followed them in the 80s and 90s and later.
What were the biggest surprises when you were compiling material for the book?
I thought I knew the story inside out, but there were plenty of surprises: How the band got together?; why Chuck Mosley left?; how Mike Patton joined?; which well-known rock stars almost joined the band?; what really happened with Guns N' Roses?; why Jim Martin left?; how the band split up and how and why they got back together?; and what happened to the
Epic video fish
!
To what extent was the band involved, have they seen what you wrote, did you talk to them?
The band would probably have been happier without a book. But as some of them said: "If there is going to be a book, we'd rather you write it than anyone else". Once I started writing and researching, they could not have been more helpful. They gave time for interviews and information requests, and put me in touch with other contacts. They were candid, honest, and enthusiastic. I spent 20 hours on the phone interviewing Mike Bordin alone, before meeting him and the band in San Francisco.
The band also reviewed the drafts for accuracy and fact-checking. As Bill Gould said, they even found out things about the band and each other that they hadn't known.
What was the work like, is that your first book? What were the obstacles, and what was great?
Yes, it's my first book, so it was a leap into the unknown. But I loved it. I love research and tracking down people and information. And writing about something you love is a blessing. So one of the challenges was to retain a sense of critical and objective detachment—the book is written with a fan's passion but I hope it also has journalist rigour. The second challenge was simply finding time. I work full time in a job that requires evening and weekend work, and I have a young family that I love spending my free time with. The final challenge was editing—I could easily have written another 100 or so pages at least. I edited the final manuscript down from 180,000 words to a tight and light 120,000 words.
Can you tell us one or two really weird/odd/surprising things you write about?
I kind of this answered above, but people might be surprised my how much the Czech Republic figures in the book. Unfortunately, one large extract about Prague had to be edited out for reasons of space but you can read it here.
(By the way the first time I met all the band members was after they played Prague in 2009, so the seeds of the book were sown at the Tesla Arena)
Faith No More founder and bassist Bill Gould spent a lot of time in Prague in the early 1990s—-and his time there greatly influenced the band's 1997 Album of the Year record.
Gould said: 'I had a business in Prague for eight years, so I was going there a lot. We were selling skate stuff. I got into it. I lived there.' 
He had also stored his trusty Trabant (that we had picked up in Germany in 1992 during the touring with Guns N' Roses) there. It ended up being co-opted as a delivery vehicle for the English-language Prognosis newspaper in the city. Then Prognosis editor-in-chief Ben Sullivan recalls what happened: 'I was good friends with Kenny Gould, one of Billy's younger brothers, and we all had gone to Loyola High School together in LA. Anyhow, in 1991, a pal of mine from Prognosis named Jeff Solomon and I ran into Mike Bordin and at least one other guy from the band walking around, them doing the Prague sightseeing thing. My buddy was a pretty active busker at the time (went on to play bass for the band Tsar) and invited the Faith No More guys to come play with them on the Charles Bridge. With a lot of class Mike begged off, and that was pretty much the last I heard of them. But I think the encounter maybe left a small impression because a couple of years later, one of Billy's other brothers who'd been behind us in school showed up at the Prognosis office. I think he was studying in Germany at the time. He said Billy had bought a Trabant and needed a place to stash it until he could work out shipping back to the States. Could we hang onto it for him until further notice? I said sure, with the proviso we could use it, and thus the Faith No More car became Prognosis' newspaper delivery vehicle. Which isn't saying much because Trabants are tiny and you couldn't fit more than a few hundred copies of the paper in there at any one time. 
'So time passes. No idea how much, but many, many months, maybe a year. And no word from the band. My guess is that the enthusiasm kind of died down once they got home, besides which importing a smog machine like that back to California would take some serious doing. Anyhow, somewhere along the way the car disappeared. Did it get stolen? Probably. The Yugoslavia disaster was still happening, and our newspaper had a very liberal employment policy with a high turnover of refugees of one sort or another. My hope is someone in need jammed a screwdriver in the ignition and made off with it. Also possible: It was towed with no explanation by Prague authorities. It's a mystery. But Billy's brother did come looking for it eventually and I had to own up to the fact that what was left in our care was no more. As I recall, he was more dismayed than angry. Like, "Seriously? It's just gone?" And it was.'
When is the book out? Will there be an e-book too?
The book is out in September. It is available from Amazon and all major book stores, online and bricks and mortar. For now, it is in English only, but I hope there will be other language versions. So if a Czech publisher is interested in a Czech version, please get in touch.
There will also be an ebook at the same time—available on Kindle and on Apple Books.
Here is a link to a Czech store selling the book:
Comments
comments