Amsterdam Dance Event launches free to access livestream series ADE In Conversation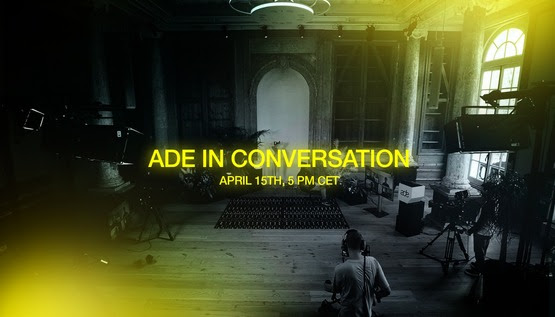 The online discussion forum kicks off on Thursday, April 15th live from Felix Meritis in Amsterdam, featuring Richie Hawtin and 3Lau talking about the new opportunities for artists arising from NFTs, alongside the reopening of the electronic music industry with directors and representatives from Elrow, CAA, Fieldlab Events and Swallow Events.
The Amsterdam Dance Event Foundation extends its support to the live music industry by inviting music professionals to the online discussion forum ADE In Conversation, taking place on its online B2B platform, completely free of charge. Professionals, artists and like-minded followers of the reopening can sign up by creating a free account here.
The path to reopening
The first 'ADE in Conversation' highlights the move back towards normality for live events, and how organisers will be doing things differently post-Covid. Event organisers sharing their vision include Elrow CEO Juan Arnau Jr., Creative Artists Agency's head of electronic Maria May, Fieldlab Events' Pieter Lubberts, and Grego O'Halloran of UK-based Swallow Events, one of the first companies to introduce a rapid testing kit for festivals and events.
New opportunities for artists: NFTs
Also featured in the first ADE In Conversation will be global artists Richie Hawtin and 3Lau – who sold his collection of NFTs for $11.7m – alongside artist/researcher Mat Dryhurst discussing the real and perceived value of NFTs, what the implications are for the future of music ownership and whether they are here to say.
ADE In Conversation kicks off with an hour-long session on Thursday, April 15th – 5 PM CET. Visitors can register here.
About ADE Pro Conference
ADE Pro is the ultimate annual business gathering for the global electronic music industry. The three-day conference for music industry professionals runs from Wednesday through Friday and features dedicated programming covering subjects from marketing, publishing and bookings to sustainability, social change and mental health. The additional networking opportunities with fellow ADE delegates and industry leaders provide an ideal and global basis for deal making and career advancement.
About ADE
The Amsterdam Dance Event (ADE), an initiative of Buma, has grown into the world's largest and most influential club-based festival and conference for electronic music. The event continues to grow and develop each year, with last year's edition featuring over 2,500 artists and 600 speakers in almost 200 venues. The five-day event attracts visitors from over 146 countries and features every conceivable aspect of electronic music culture, with dedicated conference programming, an extensive arts & culture program, live music and DJ/artist performances, all spread across the city of Amsterdam. More information about ADE can be found here.
ADE – Electronic Music Gathers Here
The Amsterdam Dance Event is organised by The Amsterdam Dance Event Foundation.
Founding partner: Buma
Principal partners: Heineken 0.0 | Desperados
Comments
comments