Interview: Knitwear designer Di Gilpin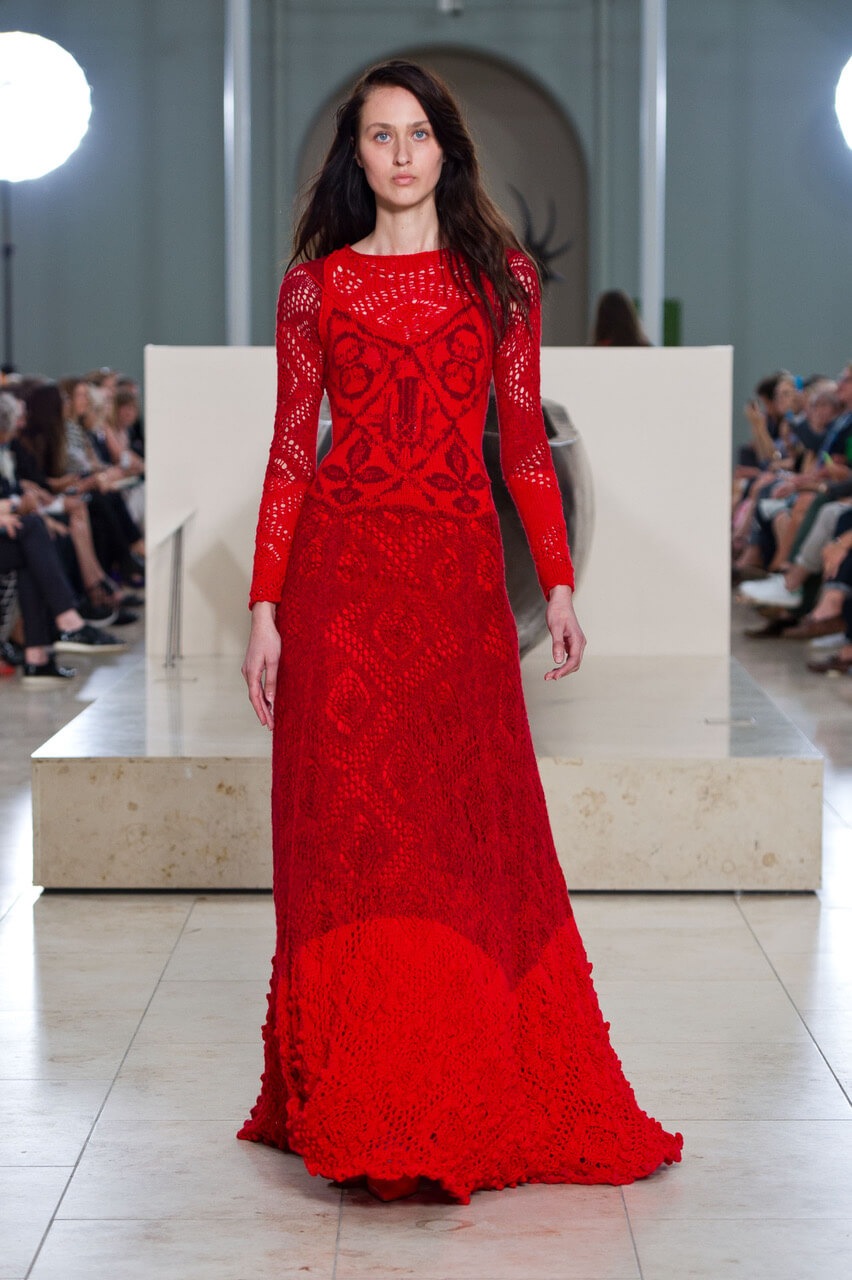 Ever wondered who designs those beautiful sweaters you see on catwalks? Or who is behind the sweaters in magazines? We found one such marvellous human being. DI Gilpin is a Scottish designer who knits, teaches workshops and does a lot of other things. We chatted via email about all things knitting related.
For many of us mere mortals, knitting is a relaxing hobby. Can knitting be relaxing when you do it professionally?
Absolutely! It is still the greatest joy for me! I love the process of designing as I am knitting…it is challenging and fun and keeps your mind lively. I just knitted myself a pair of good old fashioned mittens for winter and it was so good using up some of my old stash and making something so useful! I think I am going to knit mittens for all the family this year!
What brought you to knitting, and what made you take it up professionally?
My Aunt was a great knitter and introduced me to it at a very early age, but I also learnt a lot at school! I was a teacher and had a horrible accident and had to take time off so I went to the Isle of Skye to recover and started knitting as a way to make a living…that was in 1983.
How do you source yarns? Do you travel to yarns events, visit mills, etc?
I work with several mills creating hand knitting yarns for example, I worked with a Harris Tweed Mill in the Hebrides to create the Rowan Scottish Tweed Yarn, which was really beautiful and I am presently working with Uist Wool – a small, Social Enterprise mill in Scotland making very special wool…
I took one of your workshops a few years ago and found it interesting that you said you were designing for big name brands (which ones?). Can you elaborate on this a bit? How does this work?
I have worked with Nike, designing hand knitted running shoes and garments based on the Fishermen Sweaters 'ganseys' used around the coast of the UK. Graeme Black and Erdos 1436 for a collection for International Edinburgh Fashion Festival (see Red Dress photo attached) and at present I am developing design for La Fetiche, a Glasgow/Paris label, we do all their hand knit collections and the production for them as well. 
You are mostly known for your own designs, patterns and work. Is it a big difference to work for someone else and work as an independent designer?
It is fantastic working with other designers…it challenges me to create new and interesting shapes and patterns and I love being able to translate their vision into reality.
Knitting the Herring
You recently posted on your social media a sweater inspired by a Miles Davis album (made in the 1980s). Does this happen often that you find inspiration or music or other art? Or is it more od an unusual thing and maybe you just play with shapes and invent cables etc., or maybe go to nature?
I use music, art and nature in all my work. Each piece has a story and is a journey which evolves over many months. It charts my own development as an artist and reflects my love for colour, texture, art and the natural work. My work is often abstract and counter intuitive…I like to ask questions of every stitch. I also love to make design which can only be hand knitted and not translated into machine stitch. This keeps the heritage alive along with keeping a modern and contemporary approach to the work.
And how important is the heritage and history of your native Scotland?
Extremely important. I was thrilled to receive the Fletcher of Saltoun Award from the Saltire Society earlier this year. It celebrates the importance of knitting to the Scottish Heritage. https://www.saltiresociety.org.uk/awards/history-and-heritage/andrew-fletcher-of-saltoun/
I am also working on a really important project with the Scottish Fisheries Museum "Knitting the Herring' and working towards creating a National Archive of Gansey's.
How do you work with colours, how do you make your choices?
I just love all colour. I can look at a colour and it takes me on a journey of discovery…..I never know where it will take me. Some colours like to be on their own and others love joining up with contrasting colours to make them sing. 
What could be a day of a knitting designer like? And do you do a lot of hands-or knitting or less so?
On Mondays I go to my studio at 10 every morning to meet Sheila, my right hand woman, and we discuss all the work we have to do over the week. This will include our own pattern designs and a look at what new colours or weights of yarns we want to introduce into our Lalland Lambswool Range. At present we are developing a new collection for AW2020 for La Fetiche so I have all the pattern writing to do and special yarns to source..it takes about 6 weeks to make the pieces ready for photography in Paris and Fashion week in February. Sheila and I do all the final finishing in the studio. So it is a a day of Maths and calculations, organising the yarns which go out to our team of knitters (we have about 30 at present). I will be knitting up wee samples all day. I take a break to take my beautiful dog, Cuillin, for his walk and to enjoy the fields and woods around the studio at Comielaw Farm. I feel very blessed to have such an amazing place to work! I spend the afternoon on my own working away and often well into the evening. Other days we will be concentrating on all our trade orders with Kirsty , who oversees all the sales to the US and Europe. I may even do a video link with one of the stores hosting our present Trunk Show. On average I work about 10 – 12 hours a day and normally through the weekends too.
Your workshops are about techniques that are less usual than the basic knits and purls. How do you work with people who find some of them super hard?
Sheila and I like to take everything in small steps. Building towards the harder techniques.
Do you make knitted Christmas presents?
Maybe those mittens I mentioned earlier and I knit a special blanket for every grandchild when they are born.
What are your plans for 2020?
We have an amazing retreat in Andalucia in Southern Spain in March, which is always amazing. Lots more new designs, new yarns, the Gansey project, workshops, design development for La Fetiche and 2 new companies we will be working with in the future and maybe a trip to the US teaching!
Comments
comments