Klarafestival has put together a digital festival featuring twelve different audiovisual productions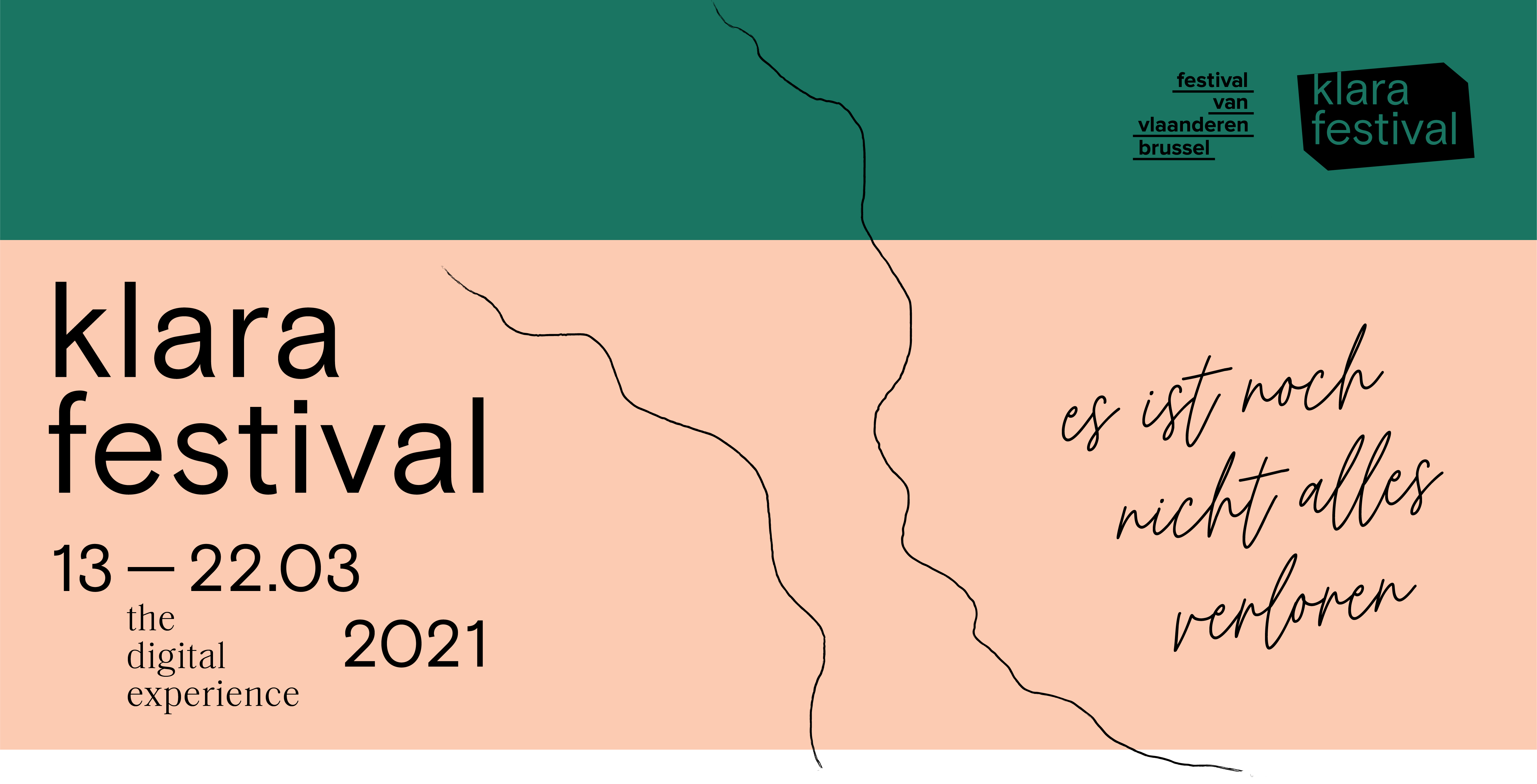 In these strange times, Klarafestival has put together a digital festival featuring twelve different audiovisual productions. From March 13 until 22, we, in partnership with BOZAR, Flagey and Passa Porta will present forgotten gems, great Romantic classics, plenty of new creations and also new, young talent. The common theme throughout all these performances? A warm message of hope and comfort: 'es ist noch nicht alles verloren', or 'all is not lost'.
Klarafestival opens on March 13 with Songs of Nature, a musical theatre production that should have premiered last year in Amsterdam, with further dates in Bruges, Shanghai, and Rouen and at Operadagen Rotterdam. All of these shows were cancelled, but Klarafestival and BOZAR can now at last bring this new production by B'Rock and Muziektheater Transparant to the stage. German arias by the Baroque composer Handel are joined by new compositions by Wim Henderickx. Soprano Ilse Eerens takes the lead in this scenic performance by director Shuang Zou.
In addition to some unfamiliar work from Handel, Klarafestival has yet more 'forgotten gems' to offer. In The Unanswered Question, the Brussels ensemble Ictus joins forces with the Brussels Philharmonic strings to perform four minimalist masterpieces. A rarely-heard vocal work by Steve Reich is combined with The Sinking of the Titanic by Gavin Bryars, among others.
Undisputed masterpieces
Exquisite renditions of the great Romantic repertoire have long been the mainstay of Klarafestival. It's taken some effort, but we are able to present you with some unforgettable classics in this edition too.
Undoubtedly, one highlight is the concert by the Antwerp Symphony Orchestra conducted by the former chief conductor Edo de Waart. They perform Wagner's Siegfried-Idyll and Strauss' Metamorphosen.
One year ago, the music world went into profound mourning at the passing of the renowned pianist, conductor and composer Reinbert de Leeuw. In the final months of his life, he was commissioned by the Brussels Het Collectief ensemble on an arrangement of Mahler's symphonic song cycle, Das Lied von der Erde. Klarafestival presents this majestic rendition with Lucile Richardot and Yves Saelens as vocal soloists.
March 2021 marks the centenary of the birth of Astor Piazzolla, the grandmaster of the Argentine tango. The famed tango-ensemble SONICO and the Orquesta Tanguedia (Gwen Cresens) celebrate his life with an evening dedicated especially to him.
Creations
Now more than ever, Klarafestival wants to help artists to create new work. Sound & Vision is a digital production in which seven duos – each comprising a composer and a visual artist – present new work. Discover how composers such as Saskia Venegas Aernouts, Frederik Croene and Eva-Maria Houben, photographer Peter De Bruyne, video artist Anouk De Clercq and choreographer Isabella Soupart mark this era.
Klarafestival has invited an international guest of stature in the STEGREIF.orchester. This hip improvisation orchestra from Berlin has been going from strength to strength in German-speaking countries, but they've never been heard in Belgium. Exclusively for Klarafestival, the STEGREIF.orchester has produced Listening to the Change. Interviews with people from various European member states form the basis for new compositions/improvisations that will be streamed from a Berlin nightclub, ultimately resulting in a highly idiosyncratic version of Beethoven's Ode to Joy.
For a third major creation, after Sound & Vision and Listening to the Change, Klarafestival and Passa Porta asked the famous Dutch author Ilja Leonard Pfeijffer to write a new 'Idyll'. Based on these texts, Frederik Neyrinck composed a score for instrumentalists from the I SOLISTI wind ensemble, soprano Lore Binon and actor Josse De Pauw. All being well, Ilja Leonard Pfeijffer will travel to Brussels and sit down for an interview prior to the premiere.
New talent
As well as some major names, Klarafestival has also gathered rather a lot of new talent. Delayed by a year, the winners' concert will take place for SUPERNOVA, a competition for young chamber music ensembles. The 2020 winners were Antwerp's Desguin Kwartet and Trio Aries, who will present work by Peter Benoit and a version of Schönberg's Verklärte Nacht respectively.
Klarafestival does not wish to be restricted to concerts in established concert venues alone, and this year it is on the move, reconnecting with the good people of Brussels under the motto 'a good neighbour is better than a distant friend'. The MUSIKAA project is a collaboration with the Municipality of Molenbeek and a few of the many cultural organisations in the area. Working with local talent, they present an artistic programme that can be discovered both online and by scanning QR codes along a walking route through Molenbeek. MUSIKAA is a first step towards an inclusive and sustainable story that will inspire both people who live in Brussels, and those who are visiting the city.
Are you interested in the full Klarafestival 2021 programme? Visit our website and sign up for our newsletter! The concerts take place from March 13 to 22 and can be followed via radio (Klara / Musiq3), streaming (klarafestival.be / klara.be / klara app / Proximus Pickx) and, up to a month after the closing concert, 'on demand' (VRT NU / Proximus Pickx / Podium 19).
everything you need to know about klarafestival
Klarafestival is the biggest classical music festival in Belgium. Every year in March, international top musicians give the best of themselves in Brussels, but also in Antwerp (deSingel) and Bruges (Concertgebouw).
The annual theme encourages reflection and classical musicians enter into dialogue with other artistic disciplines and genres. They play in concert halls but in Brussels suburbs/neighbourhoods as well, where they present a diverse programme: from old/early music, through the romantic repertoire, to challenging contemporary and new creations.
Live concerts are at the core, but more than ever the focus is also on innovative, digital projects. The close collaboration with VRT and Klara makes Klarafestival an unparalleled broadcasting festival. Private and cultural partners: the Flemish, Brussels, federal, European and international level; young and old; underprivileged and promising: Klarafestival knows how to combine all forces into one big, connecting, cross-border music festival.
Comments
comments