Book Tip: The Freelance Way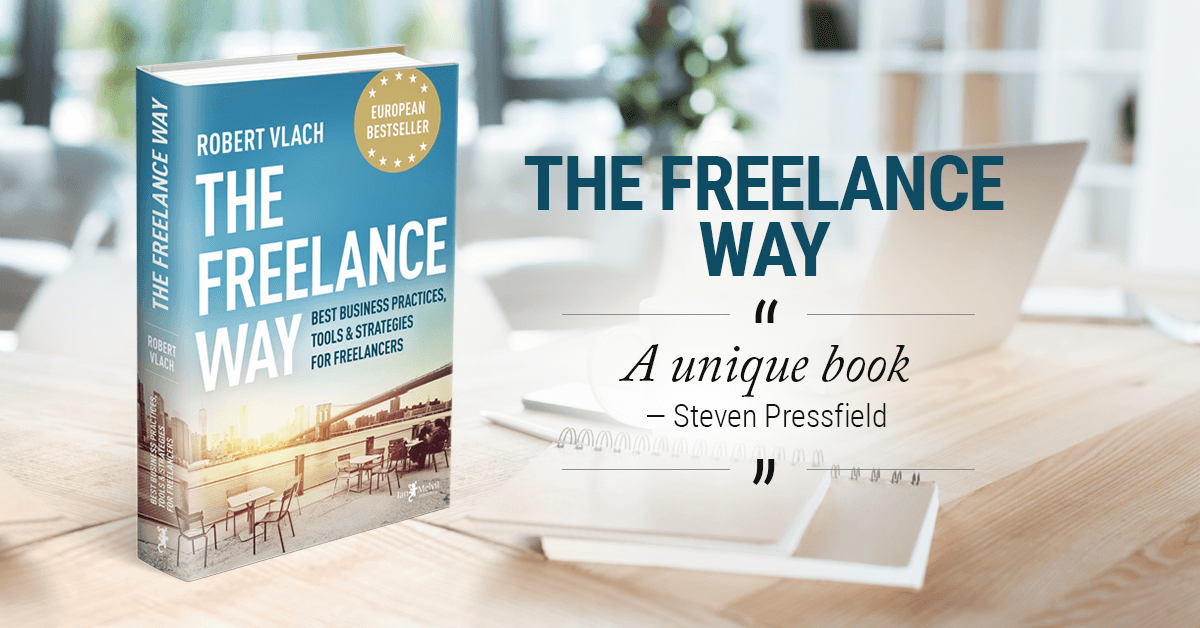 The Freelance Way
Best Business Practices, Tools & Strategies for Freelancers
The most comprehensive book for freelancers ever written — 
Packed with proven freelance know-how, including exclusive advice provided by world-class experts David Allen, Adam Grant, Austin Kleon, and David H. Hansson.
Freelancing is by far the simplest approach to doing business on the free market. With very little capital, risk and equipment, you can turn gigs and side jobs into a successful business career, become your own boss and do meaningful, well-paid work.
Yet over time, freelancing may also prove to be quite a challenge for your self-management, for a freelancer is both an expert and a businessperson. Failing to recognize this leads many freelancers to a bitter end, so developing both your expertise and business skills is essential for attaining sustainable professional growth and better profits.
There's just one more catch. You may soon find out that the rules for success written for companies and startups lack relevance for freelancers. Freelancing is so distinct, that what you need isn't just any business strategy, but the freelance strategy. In other words, you need this book.
The Freelance Way is THE business book for independent professionals. It presents the best available and fully up-to-date freelance know-how, compiled from hundreds of quality sources, including surveys, the latest market data, advice from world-class experts, as well as real-life experiences and stories from hundreds of professionals in different fields and countries, which makes the book highly relevant to freelancers worldwide.
The contents of this volume cover all the basics and best practices for beginning freelancers, as well as advanced career strategies and tools for freelance veterans. There are practical tips for greater productivity, successful teamwork, smart pricing, powerful business negotiations, bulletproof personal finance, effective marketing, and much more.
Regardless if you've been in business for 20 years, or are just starting out, this book will help you to grow, avoid countless mistakes and develop a successful personal business based on your expertise and good name, to live a free, independent, and fulfilled life.
This book will help you if:
– You are a freelancer.
– You are dealing with freelance problems that people around you don't understand.
– You are considering quitting your job to freelance and are afraid to take risks.
– You are just starting out in small business.
– You have been freelancing for a long time and want to acquire new business skills.
– You are thinking about your career strategy and where will you be in ten or twenty years.
– You are doing gigs alongside your daily job or studies and it already resembles a business.
– You are self-employed, working for a single client and want to be more independent.
– You are running a company or agency founded by you and on your good name.
– You want to understand freelancers, freelancing and the gig economy in general.
About the author
Robert Vlach is a senior business consultant, specialized in supporting independent professionals and business owners. In 2005, he founded one of the largest national freelance communities in Europe and later, in 2012, Europe's first think-tank for freelancers which meets regularly in Prague and other cities. He has been holding freelancing courses for more than a decade, and has consulted on over 300 business cases with individuals, startups, and companies. Robert lives with his family in the Czech Republic and Spain.
More praise for The Freelance Way
"As freelancers, we know why we should run our indie careers as a business, but how is often a challenge. This essential book delivers actionable advice and practical tips you can use to build a solid business foundation right now."
— Melissa Joulwan, author of the best-selling Well Fed cookbook series
"Are you an experienced entrepreneur? Then this book will save your ass several times over. Are you a newbie freelancer starting out? It may even save your life! The Freelance Way is one of the most useful books that I have read on my journey to a free(lance) life."
— Michelle Losekoot, freelance writer and digital storyteller with major brands like Puma, T-Mobile, and O2
"Just because you're a freelancer, you don't have to figure it all out on your own. There is a wealth of knowledge and wisdom out there from people who have succeeded on their own terms as independent professionals — and Robert Vlach puts it in your hands with The Freelance Way."
— Mark McGuinness, creative coach and host of The 21st Century Creative Podcast
"There's an estimate that freelancers will make up the majority of the workforce by 2027. Do you want to succeed in this new economy? By buying this book, you can make Robert your personal advisor. I don't know anyone who could be a better guide for you on this journey."
— Peter Fabor, founder of Surf Office's international network of company retreat venues
"I had the privilege to work with Robert many years before he wrote this book. He is the best business advisor I've ever had and he played a significant role in my career move from the corporate world to freelancing. The Freelance Way is a must-read for anyone leaving the corporate bubble and taking back control of their professional identity and destiny."
— Eva Skornickova, leading data privacy and GDPR advisor, former diplomat to Canada and top executive in Fortune 500 companies
"For Robert, freelancing is not a fancy hashtag. For Robert, freelance means business. His truly eye-opening book is here to help you in setting the right prices, keeping your inbox sane and preventing the most common deadly mistakes."
— Michal Kasparek, writer and editor-in-chief at FINMAG.cz
"Robert is passionate about creating and realising individual business stories, taking that inspirational spark and enthusiasm for an idea and making it real. To make it real you need to understand the details and dynamics of doing business. Robert's book is a must read, full of practical and actionable advice, allowing you to discover the entrepreneur in you and to make that passionate idea come to life. I can't recommend this book enough."
— Maxwell Colonna-Dashwood, three-time UK barista champion and entrepreneur at Colonna Coffee, author of The Coffee Dictionary
https://melvil.cz/fw
https://freelanceway.eu
#FreelanceWay
Comments
comments