Hurricane of Storms – a single for the World Mental Health Day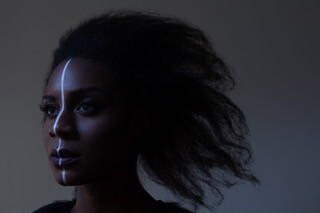 Young songwriter Eckoes has just released a new single 'Hurricane of Storms' "about reaching out for help when your mind is a scary place."
"I'm working with Help Musicians UK & it's World Mental Health day this Wednesday," said Eckoes. " There can be so much conflict within and around us, I want my music to be a place where none of that can touch us".
About 'Hurricane of Storms'
If previous single 'Black & Red' was an unapologetically bold war cry into the ether, 'Hurricane Of Storms' is a direct invitation to every one of us.
The 1st element to penetrate your soul is the honesty in her raw exposed unmistakeable voice, which needed no introduction. Deep and soothing, her poetic invocation to 'shelter in [her]' feels like coming home.
In true ECKOES style, this track doesn't stay the same for long. For some, a trumpet led electronica song would have been daring enough, but from a stark honest beginning explodes forth an almost Flume like fanfare. Dizzying and all encompassing – it's both a safe haven & a celebration. Reflecting the current topical time of increased mental health awareness, the "It's OK not to be OK' messaging is clear and comforting here. Displaying her incredible vocal range & her disregard for conventionality, ECKOES isn't playing it safe. In her new sound, you very much get the feeling of an artist taking flight. A one woman hurricane, perhaps.
About ECKOES
Recently talent scouted by Grammy Award winning producer Naughty Boy (Beyonce, Sam Smith, Emeli Sande) & a selected INES Talent 2019 Artist, British musician ECKOES is a rising star and breath of fresh musical air. On the back of live shows with the industry mogul, 'Hurricane of Storms' is the 2nd release from her forthcoming dark electronica EP. Merging other worldly textures & intimate sensual vocals, she invites us into her sublime and unique sonic world – hitting that sweet spot of industrial yet ethereal.
Naturally, tastemakers' praise has come in thick & fast from BBC 6 Music, Clash Magazine, Q, Wonderland, BBC Introducing, Indie Shuffle, Afropunk, Record of The Day and the MOBO Awards amongst many others. "A voice that will make the hairs on the back of your neck stand up" [BBC Radio] she's definitely one of the most intriguing and emotive new outpourings to emerge from the London circuit. Recognised as much for her spellbinding music as for her mesmerising stage presence in outfits she creates herself by hand, evoking the warrior goddess that she is, showing there is no end to her artistry.
As a writer and vocalist, ECKOES constantly tests the water, fusing styles with effortless grace. A prolific songwriter outside of her solo project, she has penned songs for other artists, hitting #13 in the UK Club Charts last summer with a track she co wrote & featured on with house producer Le Visiteur. An outspoken Ambassador for UK Music & The Featured Artists' Coalition, the industry really is her true passion. At the helm of her project she stands, a six foot statuesque weaver of hypnotic sounds, an artist with an astronomical aura that is all her own.
See ECKOES live
14th September – Birthdays, Dalston
15th November – ILuvLive, London
Social media
What others think about Eckoes:
"Authentic & extremely talented. Unlike anyone else out there" Grammy winning producer, Naughty Boy
'An astonishingly talented emerging artist" Record of the Day
"A Gifted artist" IndieShuffle
"A talent, a songwriter of rich potential' Clash Magazine
'A gifted new artist' Tom Robinson, BBC 6 Music
'Stunning, exciting and, more importantly, meaningful' Wonderland Magazine
'We have no doubt the song will be loved by many' The Oprah Winfrey Network
'A voice that makes the hair on the back of your neck stand up' BBC INTRODUCING
Comments
comments