June Cashmere: The Cashmere Story (interview)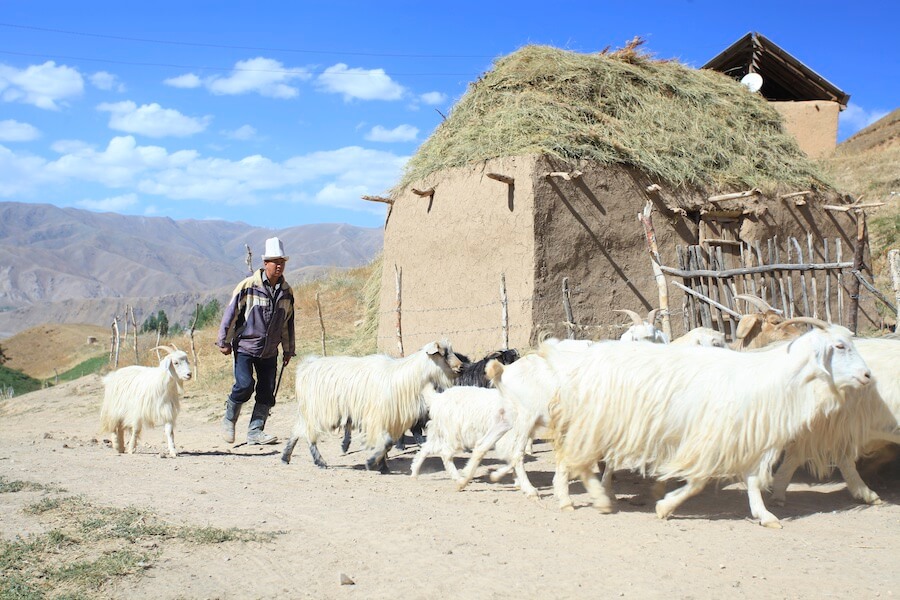 June Cashmere is an amazing small organization that helps shepherds in Kyrgyzstan and sells top quality cashmere to knitters and spinners. We chatter with its director, Amy P. Swanson, and her colleague Sy Belohlavek (who we found has Czech ancestors!).
I first encountered your yarns in a small shop in Austria but then found out it is not just another beautiful soft material, but a result of a big project that is happening in Kyrgyzstan. You are actively working on a big project that aims to improve the local economy by yarn production. How is this happening?
The short answer is: Founder Sy Belohlavek established June Cashmere as a means to work directly with shepherds in Southern Kyrgyzstan to ethically produce highest quality cashmere, paying shepherds fair value for their fiber. Through the yarn line, the company creates a market for Kyrgyz cashmere and works to spread awareness of Kyrgyzstan as a world-class cashmere producer with the goal of economic development in Kyrgyzstan. 
The focus is on quality of fiber—not quantity of goats.
Currently, June Cashmere is expanding its development work by establishing a de-hairing facility in Kyrgyzstan so that the company can work with shepherds throughout Kyrgyzstan, provide jobs in the capital Bishkek, and begin the work of re-establishing Kyrgyzstan's textile economy. Hopefully, this endeavor will encourage other investors to Kyrgyzstan. 
Longer answer: Founder Sy Belohlavek's original work established a network of shepherds to coordinate among the villages in the Chong Alai mountain region to work directly with shepherds. Kyrgyz livestock expert Sabyr Toigonbaev and agricultural researcher Dr. Carol Kerven of England helped to establish training programs for shepherds to learn best husbandry and herd management as well as best fiber harvesting practices in order yield maximum cashmere fiber quality and hence highest fair wages to shepherds for their fiber. In response to modern practices deemed harmful in the production of cashmere, the training introduced combing rather than shearing for collection and teaching about fiber quality so as to encourage best breeding practices for fiber quality. The focus is on quality of fiber—not quantity of goats—so as to avoid desertification practices that have occurred in China and Mongolia. (See this article for more information on ethical cashmere production).
Before Sy and his June Cashmere team began his work with shepherds, there were fifteen to twenty cashmere traders in Alai district. All were connected through larger businesses to China, where the raw cashmere was sent. Goats were sheared and shepherds were minimally paid for their fiber. While shepherds cannot live off their fiber sales alone, our purchasing cashmere directly from them gives them fair market value for their work. The increased income arrives in spring and offers shepherds an economic boost after the long winter. It also allows for preservation of a lifestyle that shepherds have led for centuries. For those who wish to continue their semi-nomadic lifestyle, endeavors like these help them do so. Finally, by paying fairly and encouraging best goat husbandry and fiber collection practices, shepherds are motivated to preserve a goat breed that provides a commodity that ironically results from surviving one of the harshest climates in the world. Here is an article that supports this notion. 
Currently, As an expansion of economic development goals, Sy is working with investors to establish a de-hairing facility in Kyrgyzstan so that they can expand their work with shepherds throughout all of Kyrgyzstan and begin to re-establish a textile industry for Kyrgyzstan. The hope is that other investors in Kyrgyzstan will follow suit. 
When did this thing start and what were the milestones of the project? And how many people are involved?
It helps to understand a bit of history in this story. In the 20th Century, Kyrgyzstan became part of the textile producing area for the Soviet Union when, after WWII, the Soviet Union moved textile processing equipment to the region. This led to thriving textile mills that employed thousands of people. Farm cooperatives gave shepherds an outlet for their wool fiber. Market access for finished products were possible with the Soviet Union. With the collapse of the Soviet Union, this infrastructure practically dissolved leaving Kyrgyzstan (a mountainous land-locked country) without a means of economic development. Although entities such as The World Bank tried to help Kyrgyzstan find ways to utilize their textile history for economic growth, they had no success. Wool was a predominant fiber but without infrastructure to process it, it would have to be exported for processing. Because wool doesn't yield a high price and is heavy, shipping out of country for processing wasn't economically viable. 
It wasn't until 2008 that Dr. Carol Kerven from the Odessa Centre in England carried out research to discover cashmere goats in the Chong Allay Valley in Southern Kyrgyzstan that had been isolated by the 20,000+ foot mountains surrounding the valley. During Soviet times, most original native goats were crossbred with other breeds introduced by the Soviets. These local or 'jaidiri' goats isolated by the mountains kept them from cross-breeding. Carol Kerven found many goats in this region to have the micron count and staple length of the cashmere genetically on par with the best cashmere producing goats in the world. All the goats needed were to exposure to better herding and fiber collection practices. 
This article gives you detailed background on how this all started: dates, steps, etc.  Since I would be rewriting the article, I'll refer you to this.
Did you have an inspiration in another such project, or was it all your own making?
This didn't start out as a cashmere endeavor. In 2007, a group of Kyrgyz artisans traveled to the US and while there, visited a small wool processing mill in Northern Ohio. After seeing the mill, the artisans thought that establishing mini mills in Kyrgyzstan could be a way to revitalize the fiber economy. This led J. C. Christensen, owner of that mill—Morning Star Fiber Mill—to engage his friend, Sy Belohlavek, and in 2010, the two headed for Kyrgyzstan to investigate establishing such mills. This endeavor did not end up working out but Sy, with a desire toward development work, turned his eye toward the cashmere discovery in the Chong Alai Mountain region to see what role he could play in developing the region's cashmere toward economic development in Kyrgyzstan and toward lifting Kyrgyzstan up as a highest quality cashmere producer. 
What part of the process is happening in Kyrgyzstan, and where you are putting the final touches to your yarns?
Currently, sourcing and sorting happen in Kyrgyzstan but once the de-hairing facility is in place (2020), we will source, sort, scour and de-hair all in Kyrgyzstan. The fiber will then be dyed and spun in England. 
I understand that working locally is great for the environment. The yarn travels a lot before being bought and used though (even if cashmere is extremely light), do you take into consideration the travelling aspect?
Yes! We are a US-based company (Sy grew up in Columbus, Ohio, which is where the company headquarters is) but many US processing facilities have gone out of business or do not have a tradition of working with cashmere. When creating the processing chain of the yarn, Sy Belohlavek looked for the most skilled processors of cashmere in the West to produce the highest quality cashmere yarn possible. He found the scourer in Belgium, de-hairer and spinner in England and, wanting at least a portion of the processing to happen in the US, a dyer in Maine, USA, before landing with the yarn in Columbus, OH, to be sold and shipped to customers. The establishment of a cashmere de-hairing facility in Kyrgyzstan enables a stream-lined production chain to source, sort, scour and de-hair in Kyrgyzstan and then dye and spin in England.
You produce two kinds of yarns, one is a thinner, so called laceweight and one is a thicker, so called DK yarn. Is this it or do you plan other yarns, maybe with other fibres?
We are changing our laceweight categorization to 'fingering'. While the yardage per 50g suggested a heavy lace weight categorization, the resulting fabric is clearly a fingering weight. We've had many requests to change the categorization and we are in the process of doing that. 
We also produce a 2-ply, 100g coned yarn in natural color only that still has the spinning oils in the yarn. This is beautiful for knitters (it truly is a lace weight) but we developed it for weavers who wanted a fine cashmere for warp. The spinning oils allow the cashmere to withstand the tension as warp threads. Many then use our fingering weight colors as weft or continue with the coned 2-ply as weft. We also sell fiber that has been scoured and dehaired, ready for hand spinning. 
We always are looking for possibilities in mixing cashmere with other fibers or collaborations with like-minded companies for future development goals. For now, as we are still a very young company, we are focusing on our core products and their colors. 
What types of colours are you working with? Do you also sell undyed yarn?
Yes, we have our 'natural' which is the undyed, unbleached blend of our cashmere yield each year, mixing white, brown, and gray cashmere to create a beautiful natural light brown. Our boxed fiber and all of our yarn weights are available in natural. 
We have 15 dyed colors available in fingering and DK.  These are dyed on top of the natural, unbleached yarn creating a depth of color. We originally dyed in Maine, USA, but the dye house closed this year. This is another reason why we will now dye in Great Britain. 
We were the only "Belohlavek" in the phone book.
Sy's last name of Belohlavek is a common one in Czechoslovakia. Is there a connection? 
Sy: My great-great grandfather, James Belohlavek immigrated from Czech to the USA sometime around 1875.  I always heard that we are from the Bohemian region and generally associated with Prague.  When he first arrived to the US he did not change the spelling of the name (as many did to make them simpler for English).  He stayed in New York and was a tailor, making jackets.  They lived on the 12th or 14th floor in a one room apartment where they had to carry up their water and coal.  As a boy, my great-grandfather earned a nickel by leaning out the windows of these high apartments to restring the string people used to hang their laundry to dry. The string was connected to poles sticking out of the windows. My great-grandfather eventually moved to Ohio and worked at a steel mill.  My grandfather served in WW 2 as a gunner on the B 17 bomber and flew 50 missions which was very rare as so many of the planes got shot down.  He had many close calls but survived the war, came back to Ohio, and was an engineer on the railroad for his career.  My family ended up settling in Columbus, Ohio for the majority of my growing up years.  I was always proud of the fact that in a city of over a million people, we were the only "Belohlavek" in the phone book… growing up my friends always had fun playing around with verbal variations of how to say our name.  I ran track and was good enough that often after an event finished and the announcer called out the names of those who had placed in the top 3, our name would be one of the ones said.  It became a fun moment for my friends and I to wait and see how each announcer would end up trying to pronounce my Czech name… there were so many different ways they stumbled around trying to say it. 
What is the best thing about this all?
Amy's answer: I'm in my second career after an initial career in academia where I taught Spanish to university students and studied how languages work in the mind. While I loved many aspects of that career, I come from a maker family. My father was a carpenter and my mother a gardener. Their rural lifestyle of making and making do was ingrained in my five siblings and me. I found myself longing to find a way to create a work life in textiles to fulfill my creative needs. This longing finally forced me to do a scary thing with the support of my husband: quit my academic career and seek how I could become employed in a creative textile endeavor. During this winding personal process, I met Sy at a local yarn show where he displayed his newly made yarn. It was spring 2016 and Sy had his first 4 colors on display (8 more were to arrive in the fall of 2016). I was instantly drawn not only to the beauty of the yarn but its important purpose. That fall, I wrote an article for Selvedge Magazine about Sy's endeavors and by spring 2017, Sy had hired me to handle company growth in the US when he returned to Kyrgyzstan. So what do I love most? The opportunity and challenge of building a company focused on cashmere (of all things!) that simply is so much more than cashmere. I wouldn't have been drawn to cashmere just for the sake of cashmere. It was the social enterprise behind this cashmere that caught my heart. It's an extra that makes me pinch myself that I get to work with and head up the creative direction for this incredible yarn because the more I work with it, the more in awe I am of its qualities. I'm incredibly challenged by directing and growing a company. But mostly, I am so grateful that I get to play a part in an enterprise that is striving to do so much good in a world where so there is much negative. Sy's tenacity at the roller coaster of economic development inspires me daily. I am grateful to him that he could trust me as a partner on the yarn side of this endeavor so that he could focus on his important work in Kyrgyzstan. And did I say that I get to work with, sample and creatively direct pattern development for this incredible yarn???
Comments
comments