Britská umělecká hvězda Liam Gillick vystavuje v Berlíně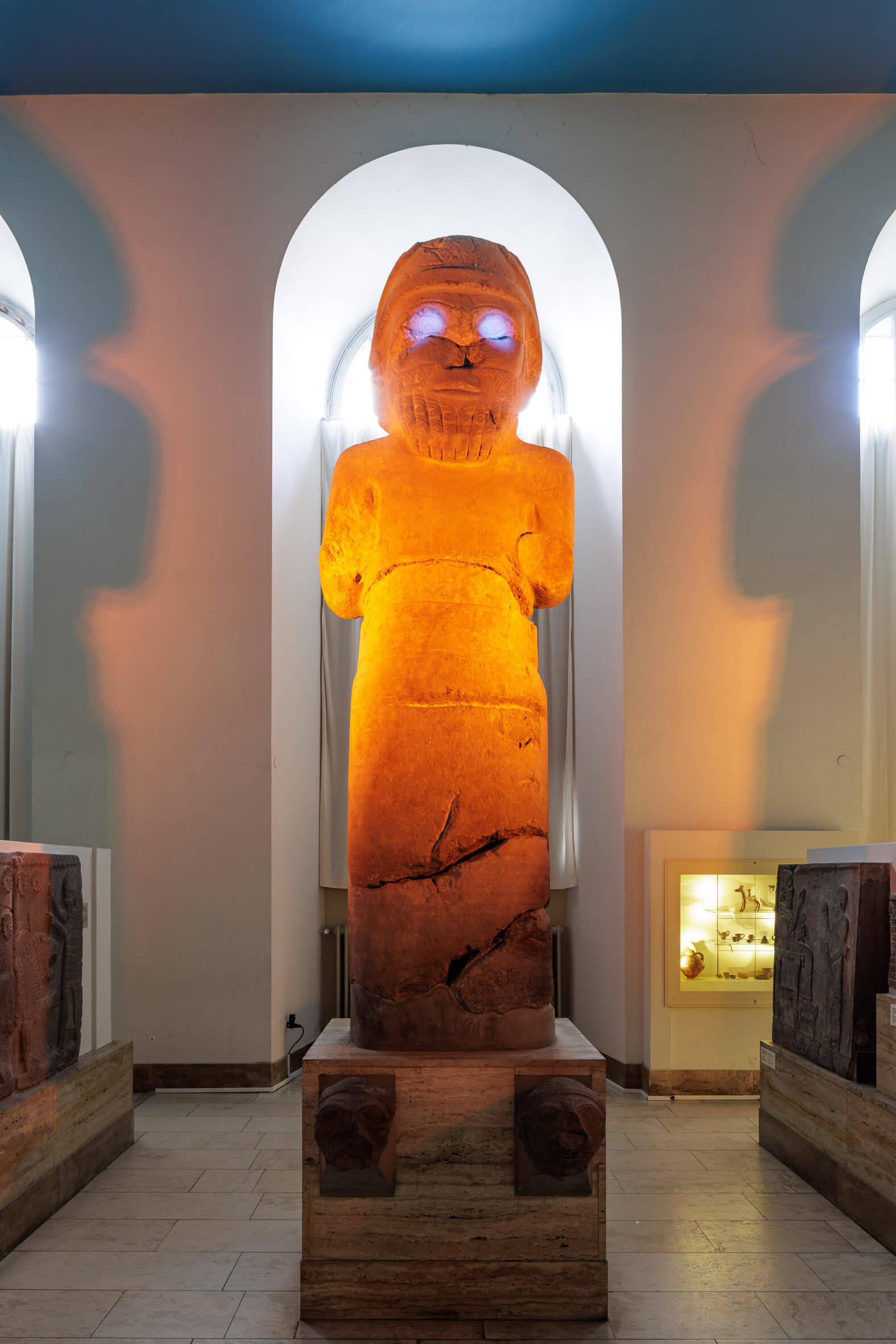 Výtvarník Liam Gillick, slavný Brit, který je oeňován pro svoje neobvyklé počiny včetně spolupráce s New Order, mám výstavu v Berlíně.
Ne ovšem v ledajaké galerii, ale přímo ve slavném Pergamonmuseu. K exponátům včetně slavné Ištařiny brány tak přdává světlo, barvy a zvuk: pro mizeum je to historicky první akce svého druhu.
---
Tisková zpráva (EN):
In a historical first, the Vorderasiatisches Museum (Museum of the Ancient Near East) and the Hamburger Bahnhof – Nationalgalerie der Gegenwart (National Gallery of Contemporary Art) join forces on a trans-historical, site-specific presentation by British artist Liam Gillick throughout the halls of the Pergamonmuseum. From Babylon's iconic Ishtar Gate to the monumental sculptures of Tell Halaf, Gillick adds layers of sound, light and colour – creating an overlay to evoke connections across periods of the Pergamonmuseum.
Since the 1990s, Liam Gillick has continuously engaged with the exhibi-tion as a critical medium. Colour has been a central aspect of this work. Given complete artistic freedom at the Pergamonmuseum, Gillick engag- es with the historical building and its collections. Entitled Filtered Time, his interventions take the form of light and colour projections and sound- scapes that draw attention to, and expose more profoundly the various historical periods of the Pergamonmuseum.
At a time when museums are grappling with historical injustices and politi- cal agency, this joint exhibition raises pertinent concerns relating to the complex history of both institutions: the challenges faced by the Vorder- asiatisches Museum as guardian of archaeological artifacts and the notion of Nation for Hamburger Bahnhof as the contemporary part of Berlin's Nationalgalerie. Liam Gillick. Filtered Time creates a sensorial space that proposes, rather than dictates, multiple explorations of some of these sig- nificant questions. While both institutions occupy a landmark position with- in the cultural landscape of Berlin, each focusing on a different period of artistic production, their collaboration is intended as testament to the con- temporaneity of all art.
Gillick's artistic investigations underpinning Filtered Light are particularly informed by two areas of recent scholarship: the use of colour in ancient art, and the sound components that accompanied people's original expe- riences when they were still in full use. Both now fully or partially lost, Gil- lick's audiovisual installations create a changing atmosphere that evokes these aspects, animating the rooms and their exhibits in historically and culturally specific ways. The exhibition introduces colour and emotion to the museum in order to give visitors an opportunity to rethink the collec- tion in relation to colour and time.
The Vorderasiatisches Museum first opened its gates in the Pergamon- museum in 1930. Its unique collections comprise objects excavated in Uruk, Assur, Babylon and other places and covering the times from the rise of the early states in the fourth millennium BCE to the end of the Achaemenid Empire in the fourth century BCE. Famous for the bright blue Ishtar Gate from Babylon and other reconstructions of ancient architec- ture, the permanent exhibition offers the visitor a unique immersive expe- rience of walking among the walls of Babylon. Liam Gillick engages with the actual presentation of the permanent exhibition that conceptually goes back to the times of Walter Andrae, director at the time of the first opening within the Pergamonmuseum.
---
Liam Gillick was born in 1964 in Aylesbury, England. He studied at Goldsmiths, University of London. He lives and works in New York. His work reflects upon the legacy of modernism in relation to abstraction and archi- tecture and the way this has mutated under the pressures of globalization and development. Gillick's work has been included in numerous important exhibitions including Documenta X and the Venice, Berlin and Istanbul Biennales – representing Germany in 2009 in Venice. Solo museum exhi- bitions have taken place at the Museum of Contemporary Art in Chicago, the Museum of Modern Art in New York and Tate in London. Gillick's work is held in many important public collections including the Centre Pompi- dou in Paris, the Guggenheim Museum in New York and Bilbao and the Museum of Modern Art in New York. Over the last twenty-five years Gillick has also been a prolific writer and critic of contemporary art. He is the au- thor of a number of books including a volume of his selected critical writ- ing.
Liam Gillick. Filtered Time is curated by Barbara Helwing, director of theVorderasiatisches Museum, and Sam Bardaouil and Till Fellrath, direc- tors of Hamburger Bahnhof – Nationalgalerie der Gegenwart.
Liam Gillick. Filtered Time
6 April – 15 October 2023
A special exhibition project of the Vorderasiatisches Museum and the Nationalgalerie – Staatliche Museen zu Berlin
Press conference: Tuesday, 4 April 2023, 11 am
Opening: Wednesday, 5 April 2023, 7 pm
Comments
comments