ENTER SHIKARI CELEBRATE ONE YEAR ANNIVERSARY OF THE SPARK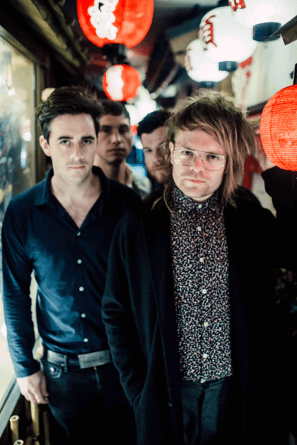 Saturday 22nd September saw the one year anniversary of Enter Shikari's critically acclaimed, award-winning, UK Album Chart Top 5 album 'The Spark'. 
To mark the occasion, the band have released a new remix of the first single taken from 'The Spark', 'Live Outside', 
mixed by their own alter-ego project the Shikari Sound System. The track is available via all download and streaming 
The remix comes accompanied with a vertically formatted remix of the original video, reimagined by the band's longtime Ukranian visual collaborator Oleg Rooz.

Enter Shikari have also announced the imminent publication of 'The Spark – Lyrics & Exegesis of Rou Reynolds', a companion paperback book to 2017's 'Dear Future Historians' hardback (now out of print, and still in high demand), which compiled lyrics and essays relating to the band's past decade of releases, including the first four albums and stand-alone singles. The limited edition book is published by Faber Music and available from all good bookstores from 26th November, or by pre-order now from Enter Shikari's store: https://www.entershikari.com/store
'The Spark' album campaign will be concluded with the wide reaching 'Stop The Clocks Tour' that begins December 2018 and continues until April 2019. The tour takes in the longest run of UK dates the band has ever undertaken, as well as extensive German and Russian dates, along with Scandinavia and key European city stops. Several of the shows are already sold out, with several more just handfuls of tickets away from joining them. 
Enter Shikari frontman Rou Reynolds had this to say regarding the 'Live Outside' remix and video:
"The 'Live Outside' remix has been a staple of our Shikari Sound System DJ sets for a while now and always goes down a treat. Excited to finally release it into the world on the anniversary of the album's release. We're truly touched that The Spark affected so many people worldwide, and so viscerally too. It was both a struggle and a joy to make, and still gives me such a rush to play the songs live".
and on being a published author again:
"I'm thrilled to be working again with Faber and publishing my second book of lyrics and essays. I'm a strong believer that dissection and analysis of music or art does not – contrary to popular belief – diminish it or reduce its magic. As Beethoven said, "Don't only practice your art, but force your way into its secrets; art deserves that". I hope readers of this piece of explanatory literature will find it exciting and interesting."
Enter Shikari 2018/19 tour dates below:
1st – UK. Lincoln, Engine Shed
2nd – UK. Stoke, Keele SU
3rd – UK. Hull**, The Welly – *SOLD OUT*
4th – UK. Cardiff**, Tramshed – *SOLD OUT*
6th – UK. Frome**, Cheese & Grain
7th – UK. Exeter**, Lemongrove  – *SOLD OUT*
9th – UK. Portsmouth**, Pyramids
12th – NO. Bergen**, Garage
13th – NO. Oslo**, John Dee
14th – SV. Stockholm**, Fryshuset
15th – SV. Gothenburg**, StickyFingers
16th – DK. Copenhagen**, Pumpehuset, Denmark
10th – UK. Sheffield, o2 Academy
11th – UK. Nottingham, Rock City – *SOLD OUT*
12th – UK. London, o2 Brixton Academy
13th – UK. Leicester, o2 Academy
15th – UK. Llandudno, Cymru
16th – UK. Liverpool, o2 Academy
18th – UK. Bristol, o2 Academy
19th – UK. Southend, Cliffs Pavilion
23rd – UK. Glasgow, Barrowland
24th – UK. Aberdeen, Beach Ballroom
25th – UK. Inverness, Ironworks
26th – UK. Preston, Guildhall
28th – UK. Northampton, Roadmender
29th – UK. Southampton, Guildhall
30th – UK. Cambridge, Corn Exchange
1st – UK. Birmingham, o2 Academy
2nd – UK. Leeds, o2 Academy
3rd – UK. Manchester, Academy
4th – UK. Newcastle, o2 Academy
7th – RU. Moscow, Adrenaline Stadium
9th – RU. St Petersburg, A2 Green Concert
11th – RU. Nizhniy Novgorod, Jupiter
13th – RU. Krasnodar, Arena Hall 
15th – RU. Ekaterinburg, Teleclub
16th – RU. Rostov-na-Donu, Arena Don
17th – RU. Krasnoyarsk, Grand Hall Sibir
19th – RU. Irkutsk. Sport Palace Trud
29th – FR. Strasbourg, Laiterie
30th – FR. Paris, Bataclan
1st – IT. Milan, Alcatraz
2nd – DE. Munich, Neue Theatrefabrik
4th – HU. Budapest, Akvarium
6th – CZ. Prague, Forum Karlin
7th – DE. Dresden, Alter Schlachthof
8th – DE. Berlin, Huxleys
9th – DE. Leipzig, Conne Island
11th – DE. Erlangen, E-Werk
12th – DE. Dortmund, PWZ  – *SOLD OUT*
13th – DE. Cologne, LMH  – *SOLD OUT*
15th – DE. Wiesbaden, Schlachthof – *SOLD OUT*
16th – DE. Saarbrucken, Garage
Comments
comments