OFF Festival Katowice 2019: First acts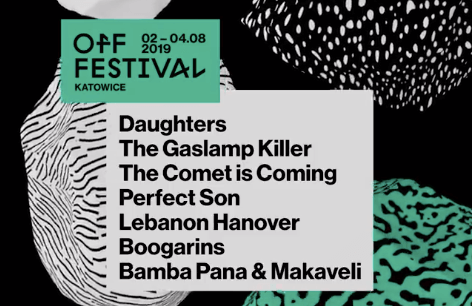 With a name like the OFF Festival, we know we've got a high bar to clear. So we're pleased to announce the first batch of artists heading our way next year. They'll charm you, shock you and enthrall you with their uncanny and unpopular music. Please welcome Daughters, The Gaslamp Killer, Perfect Son, Boogarins, Lebanon Hanover, and Bamba Pana
& Makaveli.
Daughters
H.P. Lovecraft himself couldn't have envisioned this monster in his most terrifying nightmares. Hailing from the author's hometown of Providence, Rhode Island, Daughters emerged from the ashes of a grindcore band, and thought they've slackened their pace a bit, they haven't given up their intense, incalculable way of playing music as if the world were about to end. The album You Won't Get What You Want—already hailed as one of the most noteworthy releases of 2018—combines that passion with noise rock, industrial, post punk and metal. How does that blend fare on stage? Let's just say there's a reason why The Dillinger Escape Plan took Daughters along on their goodbye tour. The king is dead, long live the king?
The Gaslamp Killer
California's William Bensussen launched his music career early, holding dance parties for family and friends when he was still a kid. He's all grown up now, and throws parties that draw a worldwide audience. Bensussen is a producer who combines rock with underground hip hop, dousing it all in a psychedelic sauce or launching it into outer space. To find out what you can expect from The Gaslamp Killer, be sure to check out his debut LP Breakthrough or Gonjasufi's A Sufi and a Killer, which he co-produced with Flying Lotus.
The Comet Is Coming
This comet is coming straight out of London. It might kill us, but only to bring us back to life. "The Comet Is Coming, signalling an end to life as we know it, heralding the dawn of a new age. In the inevitable physical destruction of the planet, a space is created where all notions of political, social and economic hierarchy will be at once obliterated and transcended," reads the band's manifesto. Sound familiar? This music is clearly influenced by Sun Ra, as the The Comet Is Coming's frontman and sax player Shabaka Hutchings (who also heads of Sons of Kemet and Shabaka and the Ancestors) proudly admits. Hutchings has actually collaborated with Sun Ra Arkestra, but he's devised a new motor for cosmic jazz, and, with the help of his pals, the electro-funk duo Soccer96, he's sending it into ever distant reaches of the galaxy.
Perfect Son
We're always thrilled to welcome new and intriguing musical projects from Poland, and often feature artists from our friends at Sub Pop in Seattle, but we've never had the opportunity to combine both aspects—until now. Tobiasz Biliński, who performs under the moniker Perfect Son, is the first Pole to join the ranks of this legendary label, and though he first caught their attention as Coldair, he recorded his upcoming record, Cast (due in February) under a new name and with a new sound. His latest incarnation is just as good, but more distinctive, massive, and catchy. Congratulations to our friends at Sub Pop on making an excellent choice!
Boogarins
In 2018 Boogarins released an excellent live album titled Desvio Onírico, which couldn't have had a better title: the band's music truly combines dreams and flights. They start with psychedelic rock rooted in the Tropicalismo era and give it an original, modern twist. Things like this only happen in Brazil. But they've earned a following all over the world, touring with tUnE-yArDs, recording a session with KEXP, and performing at Coachella. There's hardly a better setting for this sort of music than a warm summer night, so get ready: Boogarins' show just might be one of the most intense experiences at next year's OFF Festival.
Lebanon Hangover
Larissa Iceglass and William Maybelline make music that's cold and raw, and yet endlessly romantic. It's rooted in the post-punk and goth aesthetics of the 1980s, with nods to Joy Division, Krafwerk, and Siouxsie and the Banshees, but soaked in the absinthe and opium of turn-of-the-century artists. The duo released their latest album in March 2018: titled Let Them Be Alien, the LP is sad, dark, riveting and refreshingly different from everything else delivered by the main trends in European alternative music.
Bamba Pana & Makaveli
In the search for new sensations, the world of Western music has long been eating its own tail. Luckily, sources of fresh sounds still flow beyond the borders of Europe and North America. One noteworthy label is the recently established Ugandan outfit Nyege Nyege Tapes, which offers a portal into the crazy underground world of east Africa. One of the scene's crown jewels is the producer duo Bamba Pana, virtuosos of the ultrafast genre known as singeli, the party soundtrack of Tanzanian capital Dar es Salaam. These beats make footwork sound like music for hopeless romantics. Bamba Pana will be accompanied by the rapper Makaveli.
As we announced earlier, the OFF Festival Katowice 2019 will take place August 2–4 at its usual location, Three Pond Valley.
Three-day passes are now available at the OFF Shop for 290 PLN. This price lasts until 24 February or until the first batch of tickets is sold out! Campground tickets are also available for 80 PLN.
Website: http://off-festival.pl/en
About OFF
A truly unique boutique music festival, OFF Festival takes place in 'Three Lake Valley', Katowice – a beautiful green oasis in the heart of industrial Silesia. OFF Festival is a way of life, one that flies in the face of current trends and stays true to itself, and the ethos of organiser Artur Rojek is firmly aimed at supporting art and music with the festival bringing many acts to Poland for the first time. OFF Festival is growing in prominence year on year driven by the festivals forward–thinking, eclectic music policy. From the greatest alternative music stars from around the world to the increasingly strong Polish scene, OFF festival has inspiring music in abundance.
Comments
comments